SoftwarePlant has been working on this new version of their main Jira App for a long time. The release has been rescheduled several times, as they wanted to polish the solution and deliver a great experience to the end-users, but it seems that it's finally getting real and BP8, as we call it, will be available this summer. What are the changes? How will BigPicture 8 affect your project management processes? Let's have a look!
Complete redesign of Gantt module
Finally! This still is one of the oldest modules in BigPicture and it was asking for some love. It's going to be completely re-written to a new look and feel, more responsive, better in terms of performance, but at the same time it's also going to get some new features. Some of them you can already see in the new Gantt available in the current version. Here are the most interesting changes overall:
"What-if" scenarios are finally coming – we've been asking for this, together with our customers, for a long time now. We will finally be able to play around with our plans a little bit before they get published to Jira. Currently every change you make to a plan is immediately taking effect as a change of start or end date on the Jira issue, its estimate, assignee, or anything else you modify, which doesn't allow you to make more that 2, maybe 3 changes, before you have to undo them while you still remember what was changed.
InfoBar on the right side of the Gantt – completely new place with new features designed to help Project Managers get to the important information quicker. What this bar will give you is a faster access to delayed tasks (no need for a specific quick filter anymore, although you can use it if you want to), easy search by dependencies, working with milestones. A handy tool for boosting our performance, especially in bigger projcts.
Even better grouping – those of you that have already had a training with me know that I'm a fan of this feature, and it's going to get even better. Looks like the grouping rows are going to be able to aggregate the information from tickets below them which will bring you an even better understanding of your data. So cool!
Mini map – the same one that is already available in the Home hierarchy view will be available for the Gantt too, for faster navigation of course.
Look and feel changes – more coloring options (yaaay! :)), colors visible also on parent tasks, new visualization of a critical path – small things, you could say, but helpful.
Programs are going away. BigPicture 8 introduces Boxes instead!
Yes, the whole idea of BigPicture Programs will be replaced by something new – Boxes. Your Program will be a Box, your program increment too, and your iterations as well. Anything else can also be a box and you can put them in hierarchy, have as many levels as you desire. Of course this comes with a complete redesign of some features connected to Program/Box configuration. If you are a BigBicture cloud user you might be wondering why creating Programs based on configuration of another Program doesn't work – it's because of the Boxes! In the new version you will be doing it in a completely different way.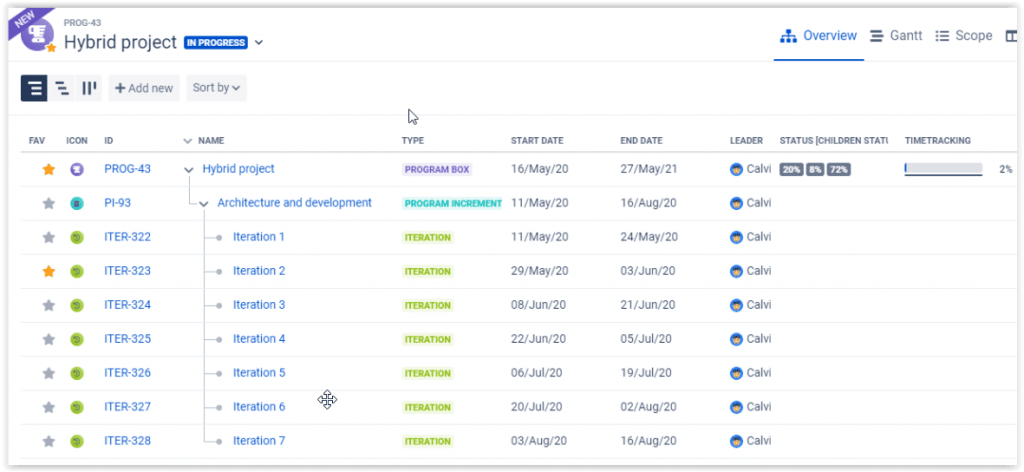 You will be able to define how Boxes behave on a timeline, build your own Boxes with custom configuration (with BigPicture Enterprise), configure settings inheritance rules in order to be able to quickly set up new instances of your Box types. Some configuration areas will be redesigned. The most important ones in my opinion are security settings and scope definition settings.
"Create New Program" wizard will be gone too. It will be replaced by a much simpler way of creating new instances of a Box type. It's hard to explain without writing a wall of text with screenshots, but believe me, it's going to be all right! 🙂
In general, even though your life is going to be harder at the beginning (learning the new concept), it's going to be easier after that. Creating new instances of your Boxes will become faster and you will have more control and flexibility over their settings. That's getting me excited.
"What will happen to my Programs wen I upgrade?" – you ask? The migration to a new version is well thought through and all the current settings are going to get moved to their right place in a new design, so that your new Boxes will work like your current Programs. This is one of the most important aspects so even though I expect the new BigPicture 8 to still have some bugs after being released, I'm pretty certain that this area will be tested with enough attention to details to allow users for a smooth transition.
New HOME view and new Overview module
Due to Boxes, the HOME view is going to get some changes too. The current version is already a big step towards that, but more features are coming still. Fortunately it's not going to be a complete remodel of what we can currently see. The most interesting features of the new HOME are:
New "Root" item that will aggregate all your Boxes.
Hierarchy of Boxes visible in both Hierarchy and Timeline views.
Additional columns getting you more info about your project (real progress info finally!!!)
Quick wizard for new Boxes
I'm pretty excited! On top of that every Box will also get its own overview module which will be a kind of HOME for a given box and all its children. Isn't that cool? You will be able to take a look at your whole project, program, portfolio, or whatever aggregation you'll use, from one place. No need to duplicate your Programs to get better view of the data anymore. I love it!
New Calendar module in BigPicture 8
Have you ever wished to be able to see your project plan structured into calendar days to be able to see what is waiting for you or your team today, tomorrow, on Wednesday next week? New Calendar module, coming with BigPicture 8, is going to help you with that. It will be a very early version of it, not a lot of features yet, but it looks promising. I can't wait to be able to integrate it with my Google Calendar or Office 365!
Connecting more instances of Jira or Trello
The new version will also allow you to bundle together tasks from more than one source. Up till now you were able to define the scope of your Programs with issues coming from Jira on top of which BigPicture is installed. Now we are going global and you will be able to connect additional sources providing tasks for BigPicture, like additional Jira instances (useful when your team is working on more than one), Trello boards and probably more coming in the future. That definitely sounds like an enterprise feature but I'm certain that some of you will be pretty excited about it! 🙂
Some smaller changes in other modules
Other modules like Resources, Roadmap and Board are getting some love as well, although these ones are not going to be massive (phew!). Just a couple of tweaks here and there. Still it's worth knowing that not only massive changes are going to be delivered.
BigPicture 8 is definitely something to look forward to!
You've been asking for it! I know, because I've personally registered about 50 or 60 different feature requests that were raised as a result of BigPicture training sessions with our customers. So now you don't have a choice but to be happy that our voices have been heard and we're getting a huge update 🙂
Are you scared that you will not be able to find your way in the new environment of Boxes and all the other features? Don't worry, we've got you covered! Our BigPicture video training is going to be updated with all the new features. We are actually going to re-record most of our videos when BigPicture 8 is released. That's how big of a change it's going to be.
If you already have access to our course, then do not worry, you will be notified when changes are ready and you will also get a list of what has changed and which videos are worth re-watching.
If you don't have our course yet, then this is a perfect time to get it. Remember that you're paying for a yearly access for 10 licenses and you will be able to follow the updates that are coming in the future as well, since our courses are always kept up-to-date!
Grab the course now – just click here – $2099
To read more about the course please CLICK HERE.
If you are looking for live consultancy or training, then you should absolutely let us know through our CONTACT FORM. We got you! 🙂
Not sure what kind of training will be best for you? Check out this video below where I discuss pros and cons of different approaches.
Be extraordinary and keep on rockin'!